How Argan Oil Can Change Your Beard forever
By Anil Davé | Last updated 6th January 2021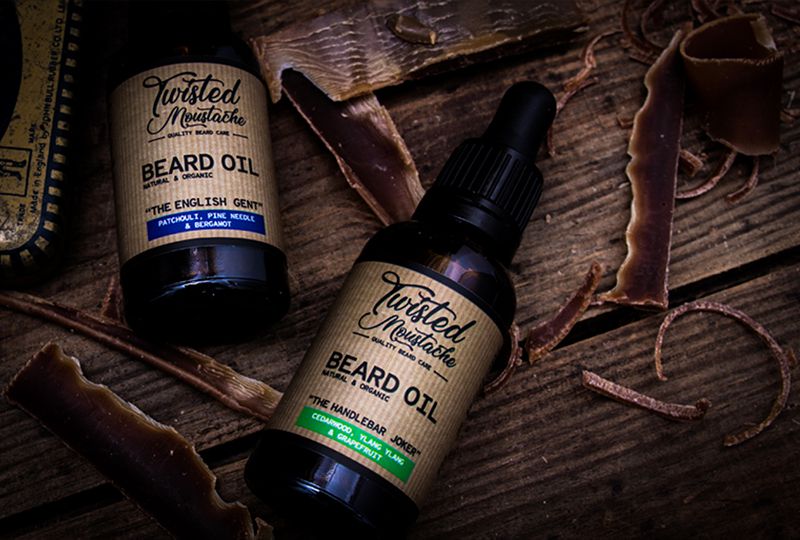 Right lads, you probably keep hearing a lot of your mates banging on about how Argan oil for beards is the most amazing sh** in this world. They're probably telling you how Moroccan Argan oil for beard growth is a thing and you're probably asking yourself this questions!
Why should I be using Argan Oil on my beard?
I mean you're using beard oil at the moment aren't you? (Please tell me that you're using beard oil mate!) Let's assume you are, you must be dying to try this magical ingredient called Argan oil that your mates keep talking about to see how it can benefit your beard. Let me tell you this.
Argan oil on beards is amazing and there is a reason why we use Argan Oil as one of the key ingredients in our Beard Oil.
What is Argan Oil and is it the same as Moroccan Oil?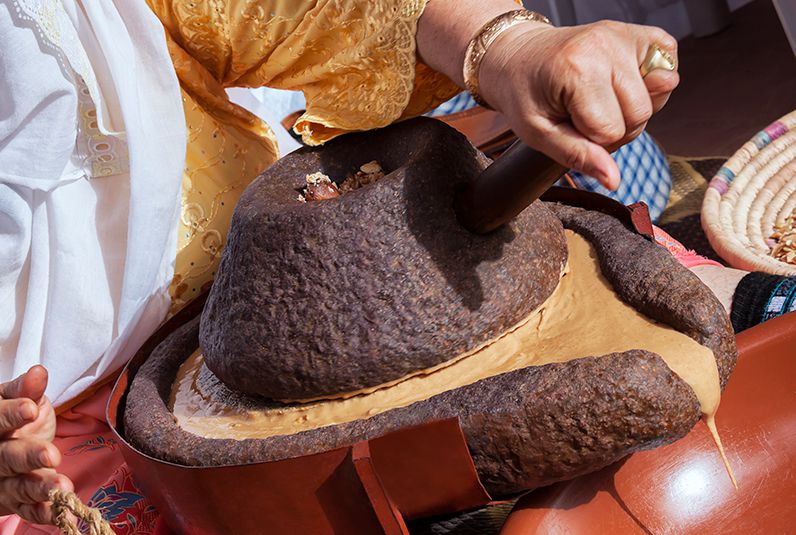 Basically, Argan oil and Moroccan oil are the exact same ingredient. So if you see Moroccan oil or Argan oil from Morocco, it's the same natural carrier oil.
Argan oil is native to Morocco and is made from their famous Argan tree seeds. It's also known as 'Liquid Gold', mainly because of its rich golden colour. These Argan kernels are found within the amazing fruits of the argan tree.
Warning - Here comes the science!
The fruit that comes from the Argan tree is round and small, the peel around the outside is pretty thick. When you break into these awesome fruits, get through all the pulp, you can then see a small nut with a hard shell! This is it, and Inside you then find the Argan oil kernels that are happily tucked away.
Where does Twisted Moustache get their Argan Oil from?
It's important for us to ensure that everything we do is done in the most ethnically and environmentally friendly way possible. This means that the Argan oil used in our beard oil and other beard products is sourced within Morocco, from the first women-run co-operative.
Growing Argan trees provides these women with a very stable income for their families as well as access to healthcare and other benefits around safety and education.
These awesome women collect the Argan nuts, open them up to reveal the dry and fleshy pulp inside. There is no waste and all of the unsued materials are then recycled as a nutritious animal feed. It's important to note that the kernels inside are then extracted using the cold-pressed method to release the liquid gold we talked about earlier.
There is no doubt that we take this very seriously and the Argan oil used in our beard oil is of the highest quality, ethically produced and 100% organic.
Let's end the science! I know I lost a few of you there! lol
Let's talk about the benefits of Argan Oil for beards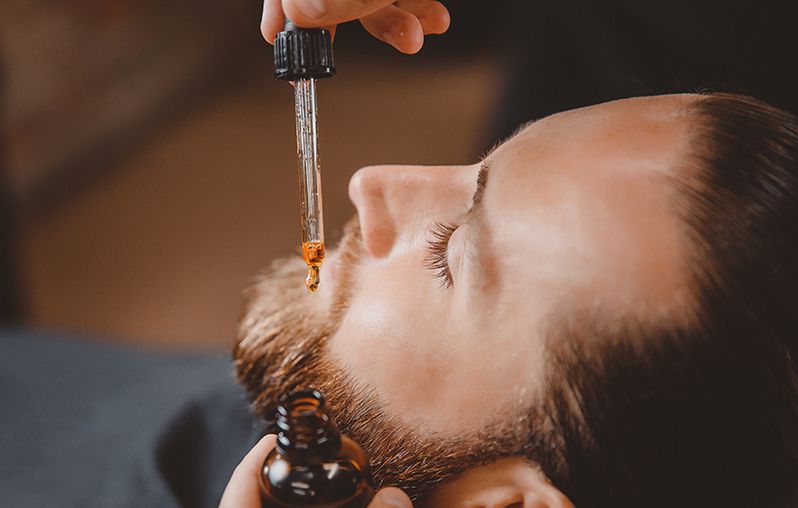 OK, so we've got through all the science and you're probably more interested in what the benefits are and why Argan oil is good for your beard.
Am I right?
Let me run through my Top 5 benefits for using Argan oil in your beard
1. Awesome moisturiser for your beard and skin
So my top benefit has to be the amazing nourishment and moisturisation you can get from Argan oil. This fabulous oil they call 'Liquid Gold' is packed with omega fatty acids, vitamin E, and linoleic acids, which are all fantastic for keeping your beard looking hydrated and fully moisturised.
Argan oil will lightly and evenly moisturise the skin under your beard, keep your beard hair soft, protected and even smooth out dry patches in your skin.
I would even go as far as to say that Argan oil is one of the key 'Superfoods' needed for your skin and can promote healthier beard growth. IT'S SOME GOOD SH**!
2. Reduces inflammation and irritation
If you suffer from a really bad beard itch or you have sensitive skin then you most probably suffer from a lot of skin irritation, which can lead to other conditions such as beard dandruff. There is nothing more demotivating then suffering from beard related skin problems when you're growing out your beard.
It can put you right off it!
I know so many lads that shave their beards after 4 weeks! Mainly because they're not using the right stuff in their beards and start to suffer from skin irritation.
This is where using beard oil that is rich with Moroccan Argan oil is going to help. As I mentioned before, Argan oil is rich with omega fatty acids, vitamin E, and linoleic acids so as well as moisturising your skin, it's also fighting against inflammation and common skin conditions that can cause irritation.
The beauty of Argan oil is that when it comes to the comedogenic rating scale, it's one of the lowest-rated carrier oils.
Wait... Actually, hold on, it's actually rated zero! Argan oil is non-comedogenic!
Have a lost you again? haha! comedogenic basically means 'pore-clogging'. So the lower the rating the better. Yes, technically, if your skin is naturally sensitive to a certain ingredient, they will clog up your pores, but using carrier oils like Argan oil can significantly reduce the risk!
The added bonus to this benefit is that Argan oil can control your skin's natural oil production. It can help keep your sebum levels in check. This is good because the better you can control your natural oil production, the less irritation you're going to get with your beard growth.
3. Prevents that horrid Beard Dandruff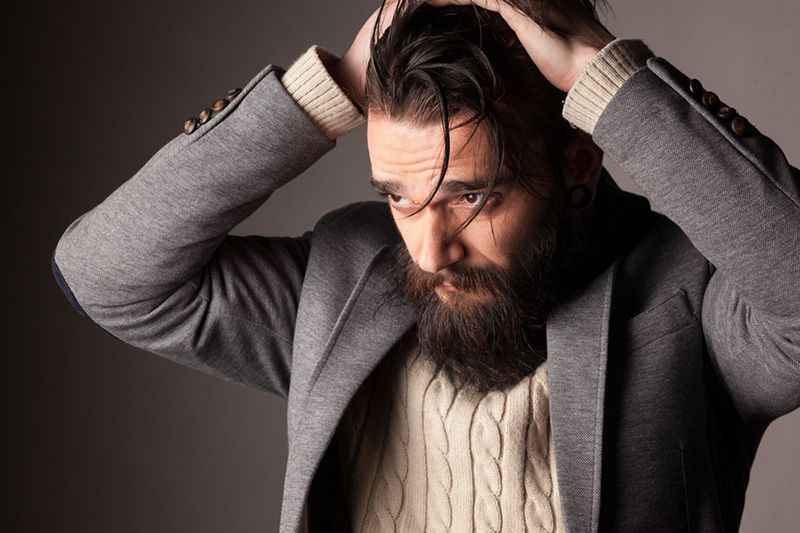 I tell you what, beard dandruff is one of the biggest triggers for lads shaving off their beards. I know you've been there when we see some dandruff flakes coming off your beard and you get worried. You then reach for your dandruff fighting hair shampoo (big mistake!) and make it worse because it dehydrates your skin and makes it dry!
Lads, beard dandruff can be caused by several things, but the most common reason is that you're not using a good beard oil! You have to start using beard oil that is rich with Morrocan Argan oil.
Argan oil is perfect for keeping the skin under your beard hydrated and looking and feeling great. It will massively reduce your chances of getting beard dandruff, which gives you confidence, which then allows you to reach your beard goals.
4. It's an awesome lightweight carrier oil
Out of all the carrier oils that are available, Morrocan Argan Oil is super lightweight, it doesn't weigh your beard down, which makes it brilliant for blending beard oils with.
Normally you would find that beard oil is a special blend of different carrier oils. We use Argan oil in our beard oil blend, which allows us to combine Argan oil with other heavier carrier oils, that have other skin and beard benefits, to create a truly awesome beard oil product.
5. Help your beard look awesome!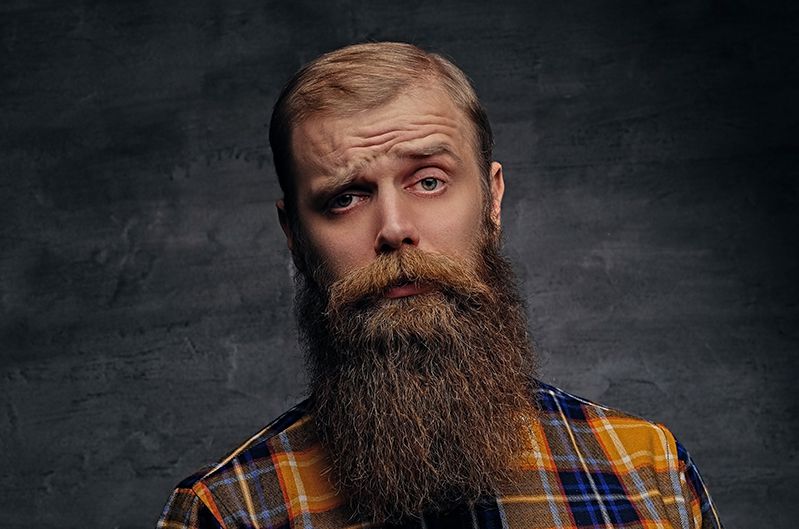 Keeping a nice healthy looking beard is your motivation. Argan oil is not greasy at all and will look awesome in your beard. when you use Argan oil in your beard you will instantly notice that you look DAMN GOOD!
Your beard will start to look healthier and it will have a natural shine. No one wants their beard to look dry and scrawny, and no one wants their beard to look overly greasy!
Twisted Moustache creates a blend that is based on Morrocan Argan oil, we combined this super carrier oil with other awesome carrier oils like Grapeseed, Jojoba and Sweet Almond oil to create a perfectly balanced blend for your beard.
Argan oil is a massive part of our blend and is the most valuable ingredient that we use.
Argan oil for beard growth! I've heard it can help?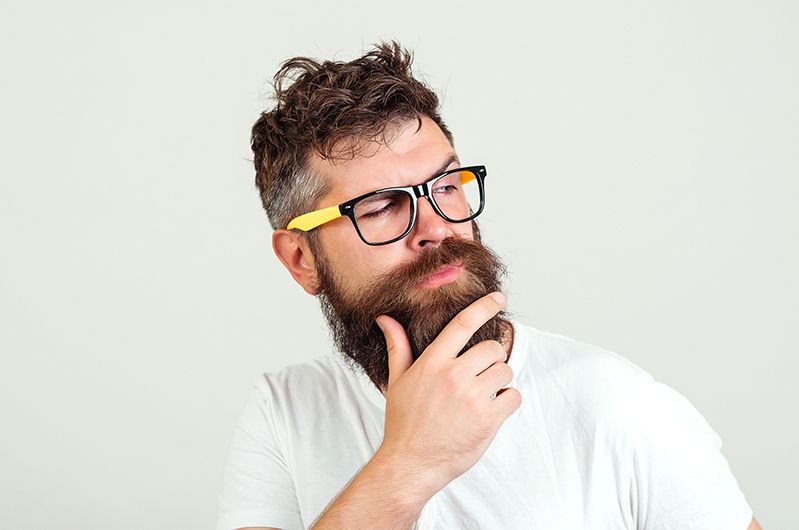 Ok Beardrins, let's get one thing very clear here. There are no natural beard oils or carrier oils in the world that will magically allow you to grow a beard if you can't. What I mean by this is that if your genetics don't allow you to grow the beard you want, Argan oil or other carrier oils are not going to magically grow beard there for you.
But...
If we're talking about Moroccan oil helping beard growth, then yes, Argan oil can definitely help you with your natural beard growth. The import word here is 'Natural'! As I said, you have to have the genetics to grow a beard. It's either in your DNA or not.
It's like with anything in life! Let's take a simple plant. If you feed it the correct food and water, at the correct time, treat it with care and attention, it's gonna grow, and It's gonna grow in the best way it can, naturally.
This is same for your beard. Using awesome natural ingredients like Argan oil is going to help you get the best natural beard growth, but you need to do all the other stuff. Have a regular beard routine, wash it with care, comb and brush regularly. If you do this, then you will be getting the best natural beard growth that you can achieve.
How to use Argan Oil on beards?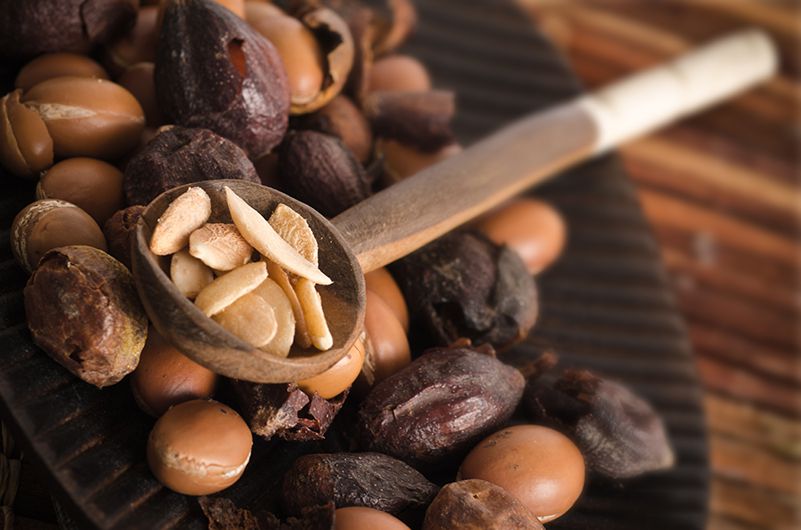 So we've talked a lot about Argan oil here and you're now feeling a little confused I bet?! Moroccan oil, Argan oil, beard oil...
WHICH IS IT!
Argan Oil vs Beard Oil
So I mentioned it already, Morrocan oil and Argan oil is the same thing. But, beard oil can be different, let me tell you why.
Beard Oil is a blend of different carrier oils and some brands use Argan oil, and some don't. The reason why some of the best Beard Oils on the market have a blend of different carrier oils is that each oil brings its own benefit to the table. Some of them are richer in other nutrients, some of them are thicker, fast-absorbing. This special blend is what each beard company creates and is a secret recipe and unique to them.
So...
Beard Oil = A blend and different carrier oils, which might include Morrocan Argan Oil
Argan Oil = Well, this is just 100% Argan Oil!
What one should I use then?
So there is nothing stopping you from getting 100% Argan oil and using this on your beard. As I mentioned, you're going to get all of the benefits I've noted in this article. It's going to be awesome for your beard. But...
I would recommend you use a beard oil with argan. Mainly because you're going to to get a whole bunch of other benefits that other carrier oils can give, but also, beard oil can be scented and give your beard and awesome smell.
Ok... I need to get some Beard Oil then!
Yes, you do, and we have you covered there. Twisted Moustache has a section of Beard Oils, in five scents, with an unscented option. All of our beard oils are blended with 100%, cold-pressed Organic Argan Oil!
What's the best way to use Beard Oil With Argan in my beard?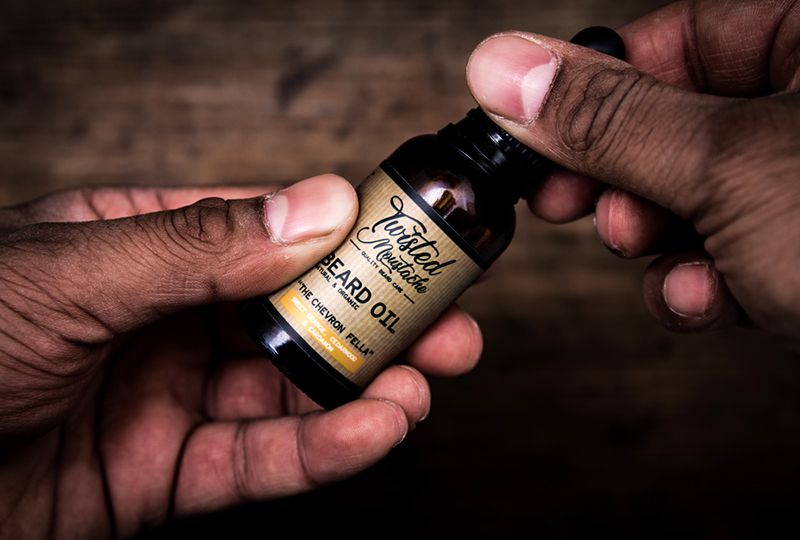 This is a great question and I'm going to first suggest that you get a decent and consistent beard routine, something you can perform at a regular time every day, twice a day. Creating a beard routine takes a little time to get right, but your beard is gonna love you for it!
Here is my 5 step process for a good beard oil routine.
Create a habit and a regular routine - As I said, this is something you need to figure out. A good starting point is in the morning and right before bed.
Make sure you're using high-quality beard oil - Use a beard oil rich with Argan and that you're evaluating your usage every day. As your beard grows, you might need to adjust your beard oil consumption. You might start with 2 drops, then you might move to 5 drops after a few months. The import thing to remember is that when you're applying beard oil, you need to ensure that your full beard is covered and the skin underneath isn't left dry.
You have to brush and comb - It's especially important to brush and comb your beard after applying beard oil. If you don't spread it through, it can build up in your skin, which might not be a good thing. Also, if you're not combing it through, you're not ensuring that your whole beard is getting the benefit of the beard oil you're applying.
Wash with care - Try and only wash your beard when it's absolutely necessary. Obviously this might depend on certain factors in your lifestyle, but try to only wash your beard once a week and make sure you're using a beard wash designed for your beard!
Conclusion
So in this article, we covered a lot about Argan Oil, speciality the fact that it's also known as Morrocan Argan Oil. We talked about some of the awesome benefits of using Argan oil in your beard, a little history lesson, as well as some facts about beard growth with beard oil.
Right Beardrins, that's all I have to say, for now! Let me know your thoughts on Argan oil. You can even reach me on Instagram @twisted.moustache. I'm always up for a chat about beard products or help in any way I can!