Meet the team!
Anil // Co-founder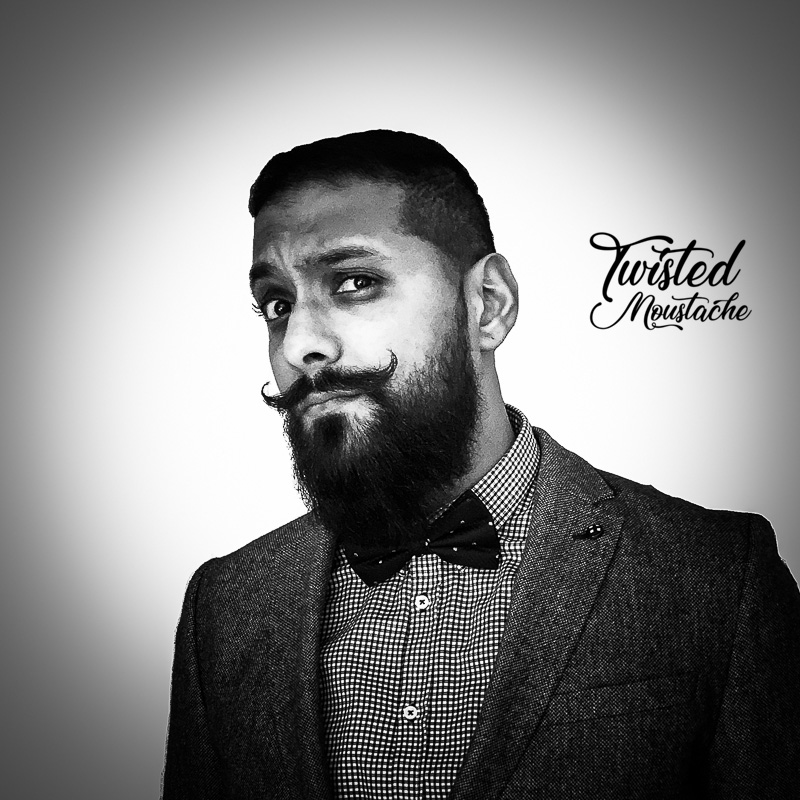 I started Twisted Moustache as lifestyle and grooming blog. I wanted to create content that was relatable to the modern man, content about grooming, beards and maybe fashion. The funny thing is, that I found myself creating more and more content around beards, so naturally, that's where the brand progressed to.
I started to join the bearded community on Instagram and Facebook, and it didn't take long for me to realise that there was a real connection, brotherhood and something really special here. I wanted to be more of a part of this extended family.
Taking Twisted Moustache to the next level and creating our own products was an easy decision for us to make. It became something that we love to do together and ultimately allowed us to become closer as a family, but also our extended family in the bearded community.
---
Annabel // Co-founder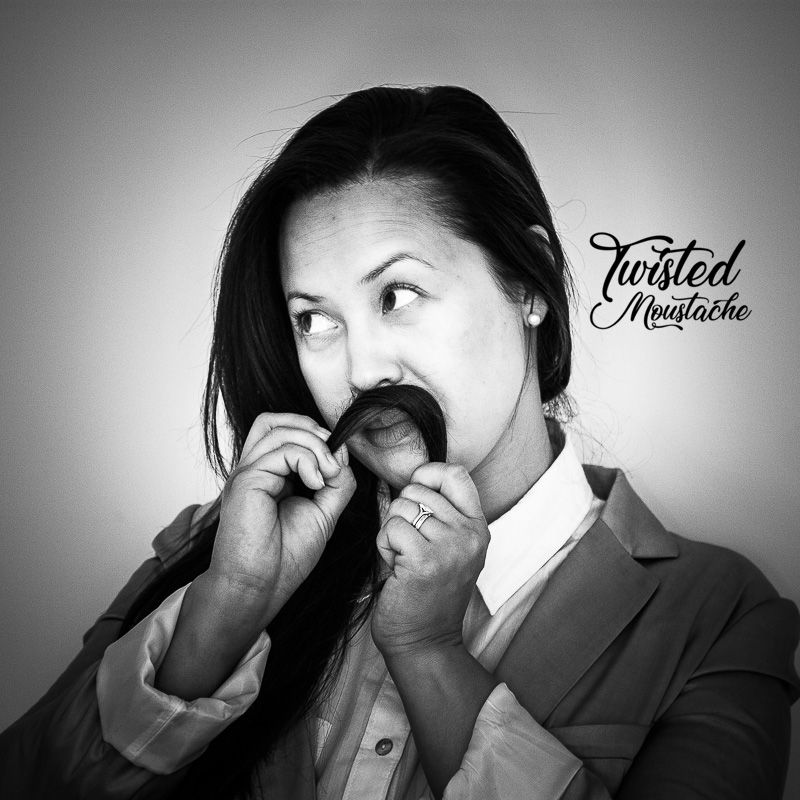 As Anil mentioned above, Twisted Moustache started as a growing blog hobby in his spare time. I created the branding and we quickly realised that we loved it so much that we'd be silly not to use our brand to make and sell good quality products to other bearded men.
I like to think of myself as a creative person. I've always enjoyed making and designing things, so setting up the Twisted Moustache brand with my self-taught PhotoShop skills and researching and making the products has been an exciting journey, which I hope will continue you for years to come.
I'm looking forward to where we can take Twisted Moustache as a team and a family, whilst always remaining as a handmade small batch company.
---
Scarlett // Mini Co-founder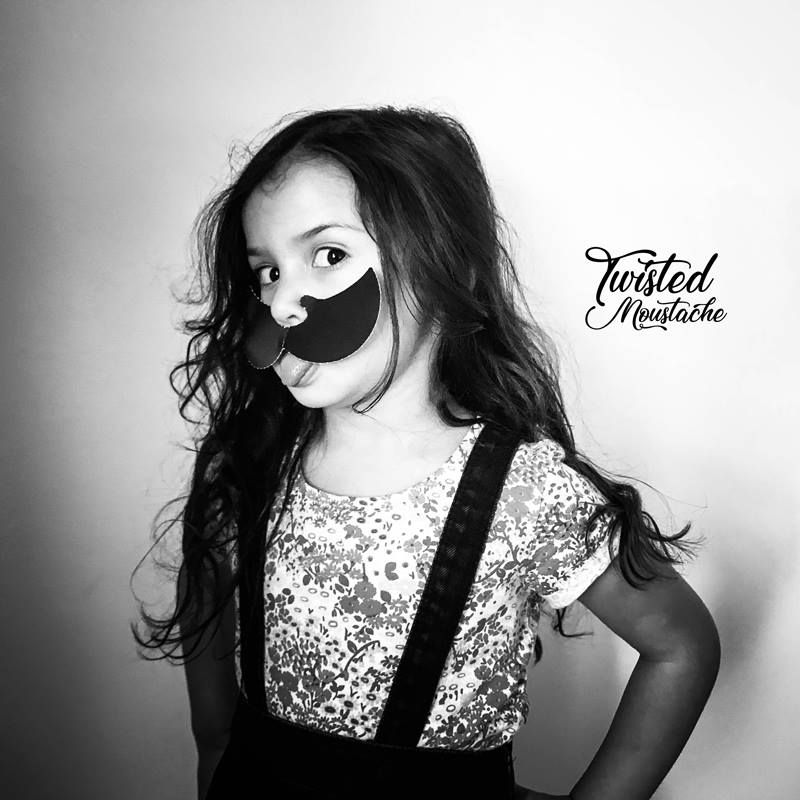 I'm Scarlett and I'm 5 years old. When my Mummy and Daddy started on this beard care brand journey, I didn't really know what it was all about. I knew that my Daddy had a beard and he put stuff in it to make it feel nice and smell nice, but why!?
Just over a year later and I now know what it's all about. The house is always smelling good with essential oils after a day of Mummy making some products and I know how good they are for my Daddy's beard and skin. I don't ever want my Daddy to get rid of his beard. It's who he is!
As I'm only 5 years old, I don't have a full-time role in the business, but when I'm home from school, I have been known to dabble in packing orders up with Mummy and giving some of the products a good 'sniff test'.
---
---
Jimmy // Ambassador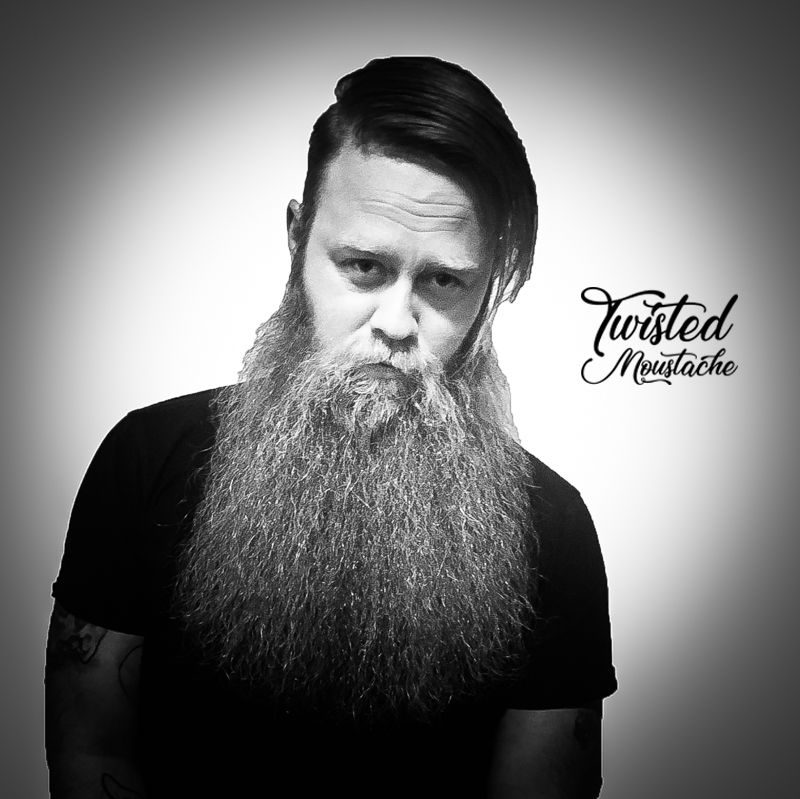 I'm Jimmy, but often my friends call me The Lion King. I think that might have something todo with the beard! lol!
I'm 38 and I have four fabulous children. In my spare time, I enjoy sports, drinking beer and taking long walks.
Back in 2015, on a cold winters day in December, I decided to stop shaving and start growing a beard. Well, four years have passed and I have no plans on shaving it off!
I'm a proud member of the Bearded Villains. I love the fact that something so simple as a beard, can be so powerful in allowing you to meet so many different people, in different places, with the same goals and values! I feel very privileged to be asked by Twisted Moustache to be part of this great team!
---
Jack // Ambassador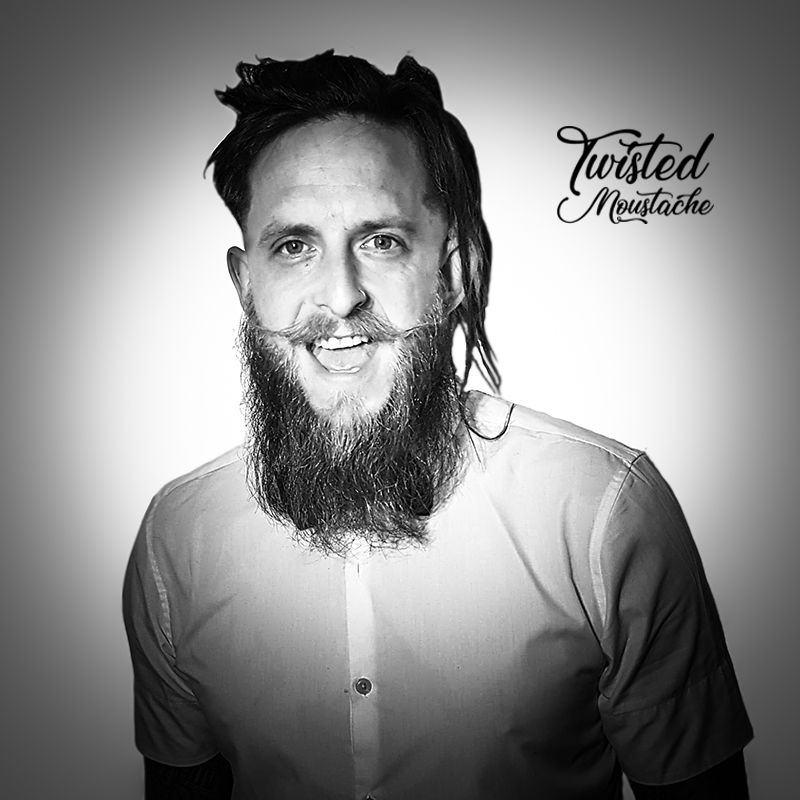 I'm Jack, but I prefer to be called Jacko! This is my second face of fur and I think it will be my last - I'm never shaving again! I started growing my beard on and off around three years ago, but now I'm all about grow, grow, growing!
I have recently bought a house and a French bulldog with my girlfriend. I like to play darts and snooker, which I play once a week for local teams. I love tattoos and bearding among spending time with my girlfriend, friends and family. I have many tattoos. Both my arms are full of them, but also my hands, fingers, chest, neck and left leg! A lot of my tattoos were sketched by friends and family!
I first heard about Twisted Moustache on a beard group on Facebook called Home Of The Beardos. Since I started using Twisted Moustache products I just can't get enough, I love the beard oil scents and still can't pick a favourite. My beard feels and looks great and much healthier. I feel truly privileged to be part of this great team and looking forward to helping them grow as a business.
---
Chris // Ambassador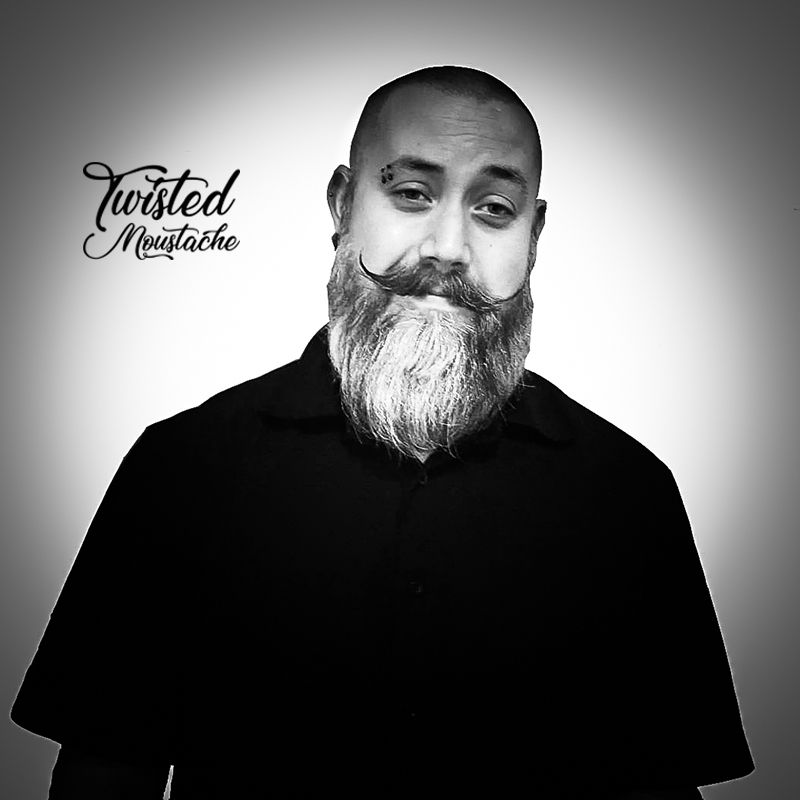 I've had many different styles of facial hair over the years and have rarely been cleanly shaven. I started growing a full beard at the start of 2018 and haven't looked back. For me, growing a beard has led me to meet some awesome people through various beard groups.
I'm married and we have 3 beautiful children together. I earn my living by working in a concrete factory. It can be very harsh on the beard and that's why it's important to use quality beard products to keep my beard feeling and looking great.
I was first introduced to Twisted Moustache via the Home Of The Beardos Facebook group and just loved their products from day one. The Handlebar Joker beard oil is my go-to scent but they have not made a scent yet that I don't love. I'm very honoured to be a part of this great team at Twisted Moustache and I'm very excited for all the future products they have in store.
---
Dan // Ambassador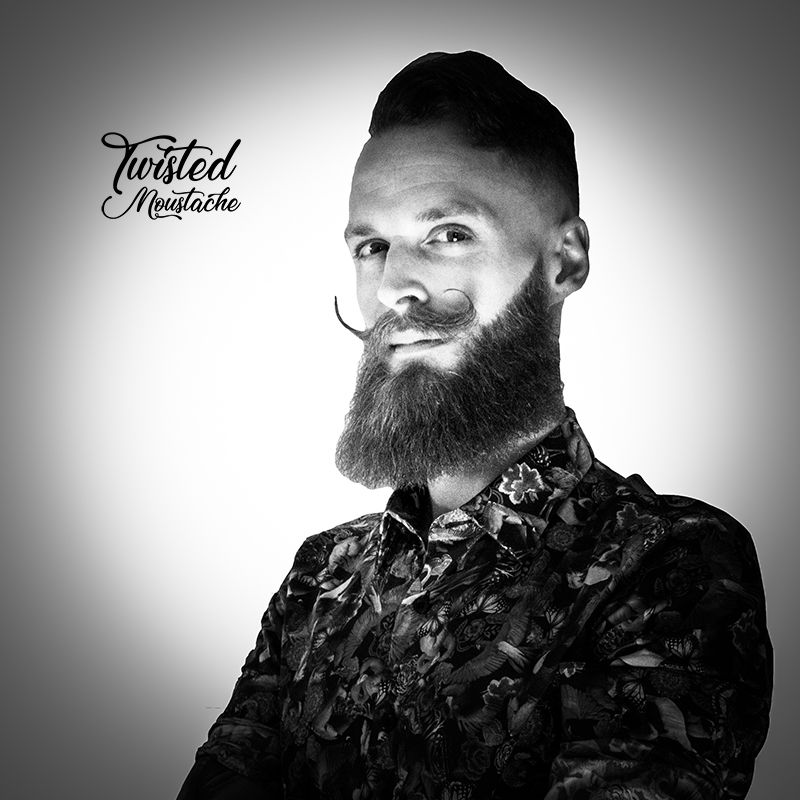 So I'm Dan, a family loving man. I love being a father and being able to spend every day raising my amazing daughter. After family, my second love is music. I'm a vinyl junkie, turntablist, mixmaster DJ that loves most genres from all era's, classical, Rock & Roll, Heavy Metal, Indie, Brit Pop Reggae, Blues, Jazz, Disco, Funk, Hip Hop, R&B, House and Garage, Drum & Bass, Jungle, Dubstep and Disney classics!! I also play guitar and write songs, poetry, and Rap. Then in my spare time..... who am I kidding, spare time no longer exists with my tornado toddler!
I was so unaware that my facial hair would take me on such an amazing journey. I used to be such a fan of the stubbly look and I never liked being clean-shaven so always kept it trim and tidy. Then, in 2015 I met my soulmate, she persuaded me to let it grow out my beard.
One of the finest brands I've found to suit my mane is Twisted Moustache. The unique blend of carrier and essential oils in their beard oil are perfect for me. I absolutely adore sweet almond oil, I no longer suffer from dry skin thanks to this nutty oil, combined with grapeseed it makes my skin and beard so soft and silky. I'm so proud to be representing such a fantastic brand with great values.
---
Ryan // Ambassador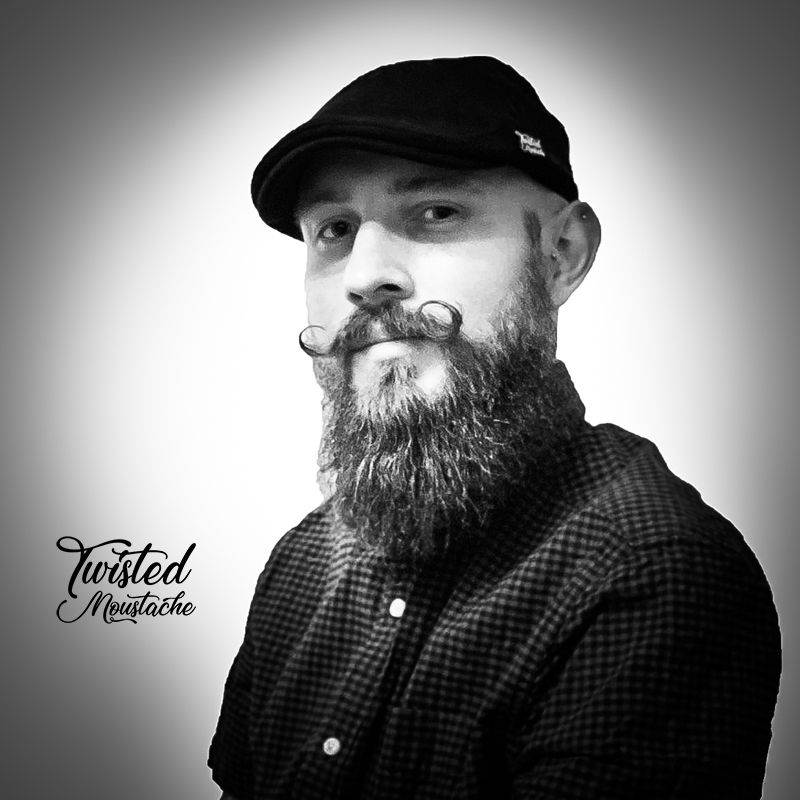 I'm Ryan, but most people call me Guppie. I was first introduced to Twisted Moustache by my good friend and bearded brother Dan. Once introduced to the brand my beard has never looked or felt better. His words were true "once you go twisted you don't go back" and he was right. I then found my first love "The Imperial Master" and there were many more that followed.
The club Twisted and Bearded is a place I like to call home, plus I've met some lifelong friends. The group has helped me find myself and feel a part of a community of the most respectable Beardrins I know..
As I am living with a disability my wife has been my saviour by tending to my beard needs, so I wouldn't have the magnificent beard I have today if it wasn't for her grooming expertise.
I feel very honoured to be a part of this ever-growing brand and community and look forward to what the future with Twisted Moustache holds.