Do [Beards] Absorb Punches? Boxing and MMA Rules
By Anil Davé | Last updated 8th May 2018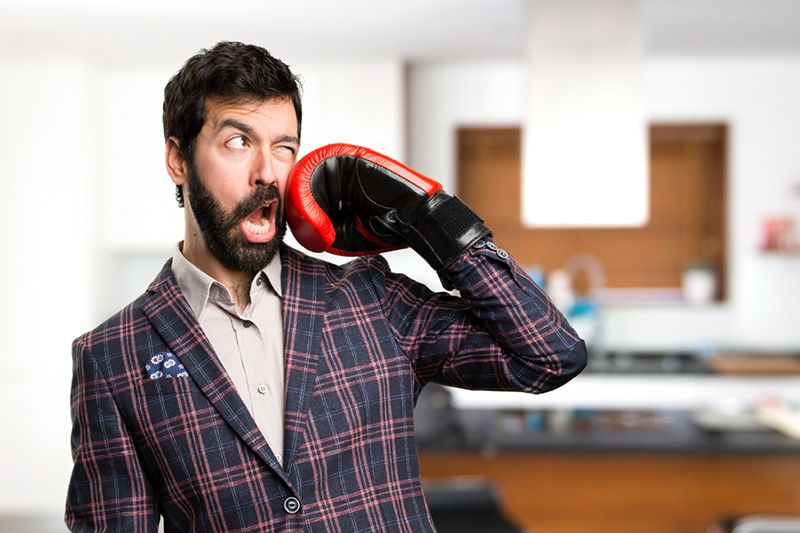 I was down the pub a couple of weeks ago with a few mates and something interesting came up in conversation. One of my mates asked me if my beard would take a punch to the face. At the time we laughed it off and carried on downing pints. The next day, I was telling my wife about our ridiculous conversation the night before, and I got to thinking, can beards cushion blows to the face?
Hmm... Time for an article.
So this is an interesting question. Can a beard give you some kind of advantage when it comes to absorbing or taking one on the chin? After a quick Google Search, I discovered a number of forum posts and questions being asked, ranging from general curiosity to people wanting to take up boxing.
Do beards absorb punches?
That's what I'll be attempting to cover off in this article. We'll cover some of the theories behind this question and some real-life scenarios for why this question is valid.
So, can my beard absorb a punch?
Well, it will, but only by something like 5%. Let's face it, if Anthony Joshua landed one of this famous right hands on your chin, your beard isn't going to save your face from getting caved in.
Some experts believe that a few millimetres of hair will not cushion a blow that often landed with 800psi in a single punch. I have to say that after my research there are mixed opinions out there, but nothing scientific that has proven any of the theories.
But, let's look at this from a different angle. If you have a beard that is long, you could be getting an advantage in a few other ways:
Your long awesome beard will hide your jawline and make it very difficult for someone to pinpoint the exact location of your chin. The obvious advantage here is that you could stand a better chance of not being KO'd by a single punch as it might not connect directly where someone was aiming for i.e. your chin
There is a theory that your beard can help reduce the friction of a punch, in particular, from a boxing glove. If you have a long, well-groomed shiny beard, then punches could "potentially" slip off your face/beard quicker at the point of impact - I'm not sure if I quite believe this one!
That second point is also controversial, with experts also believing that a beard's coarse-grained hair has a lot more tensile force, so more friction, resulting in a more forceful punch, less likely to slip then they would hitting sweaty skin on the face.
It's a bit of a mixed bag really. Let's take a look at what the Boxing and MMA community think
Can you have a beard in Boxing?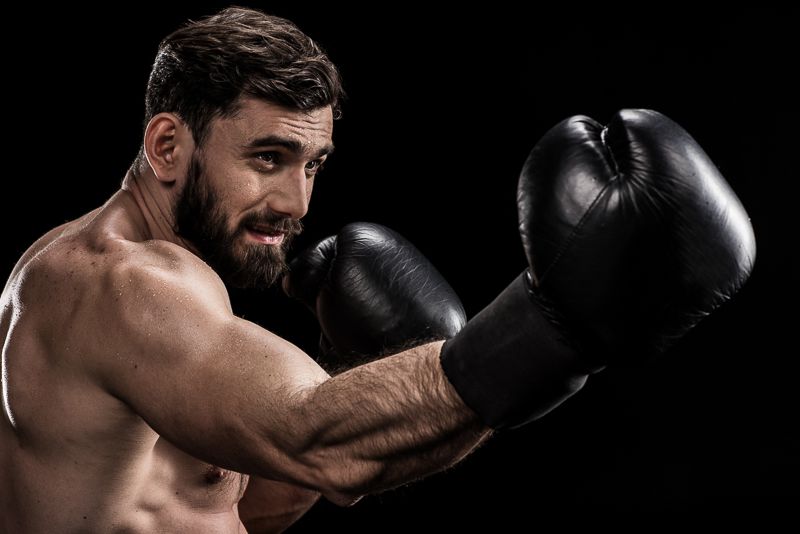 Interestingly, beards are allowed in professional boxing, with the caveat being that it must be trimmed to a certain length. The Boxing Board rules do state that a fighter's jawline must be visible during a fight, so facial hair isn't altogether prohibited.
There was an interesting article from Frank Warren (Boxing promoter) where he was fully backing the 'No Beards in Boxing' steam train.
Frank complains that this rule has been relaxed a fair amount in recent years with boxers showing up in the ring fully bearded. It's also thought that bushy beards will potentially cushion blows.
What about Amateur boxing?
Amateur boxing does not allow any beard at all. There is a rule that states that Boxers must be clean-shaved before any medical examinations are carried out on any bout in the Amateurs. It's a clear rule that states that beards and moustaches are not allowed. If a boxer violates this rule, then they can't enter the tournament.
What's the reason for it?
The actual reason for this rule is unknown. I couldn't find any information about why it's there. Some boxing coaches have said that they think it's to ease the work of a doctor for treating cuts around the jaw. There isn't evidence to suggest that the rule is in place to prevent an advantage for a fighter, even for a beard absorbing a punch.
What about MMA, is there an advantage?
If you ask any real MMA fan you'll know that MMA is supposed to be "as real as it gets". This is what makes MMA federations like the UFC so damn different and popular.
Guys in real life often have facial hair, so it doesn't get much more real than this.
But, with the growing popularity of this sport, and as money, management, and fame start to pour into the sport, we're seeing more and more rules come into the sport.
Now, the rules on beards in MMA seem to be quite relaxed, but the Ontario Athletic Commission states that fighters must be "cleanly shaven immediately prior to competition" with the only exception being a closely cropped moustache.
I say it feels that this rule is relaxed because I've seen UFC fights where fighters have had beards. Take for example when Jon Jones fought Vitor Belfort at UFC 152 back in 2012. It was clear that Jon had grown a big beard and moustache which wasn't short on length at all. He wasn't required to shave it off.
It looks like an example was set by the Ontario Athletic Commission back in 2016 when they forced Emil Meek to shave his beard in order to comply with their rule for his bout with Jordan Mein at UFC 206.
But why is the rule there?
Well, it's nothing to do with beards absorbing punches or cushioning blows. Again, most experts have said that it's in place for a few reasons:
To stop any obstruction with any close-up or groundwork where a beard could cause issues
To prevent an opponent from grabbing and pulling a beard for an advantage.
My conclusion on this whole argument
I'm no expert and I'm sure there might be more evidence out there that I haven't touched on. If there is, drop me a mail and I'll happily update this article.
If you ask me, no amount of facial hair will completely negate the force of a full-blown shot from a pro fighter, but if you have a few pints down the pub and some twat tries to lay one on you, then maybe it will help. If not to cushion the blow, at least protect you enough to so that a pis#ed idiot has trouble finding your jaw.
Let's face it, any cushioning will provide some absorption. A heavy beard might take 5% out of a shot and that could be the difference between being knocked out silly or not. It's all fine margins.
Who remembers that famous quote by Vin Diesel in The Fast and the Furious:
"It doesn't matter if you win by an inch or a mile, winning's winning".
I'll leave it up to you to decide.