Top 8 [Best British Beard Oils] for the UK 2018
By Anil Davé | Last updated 9th February 2018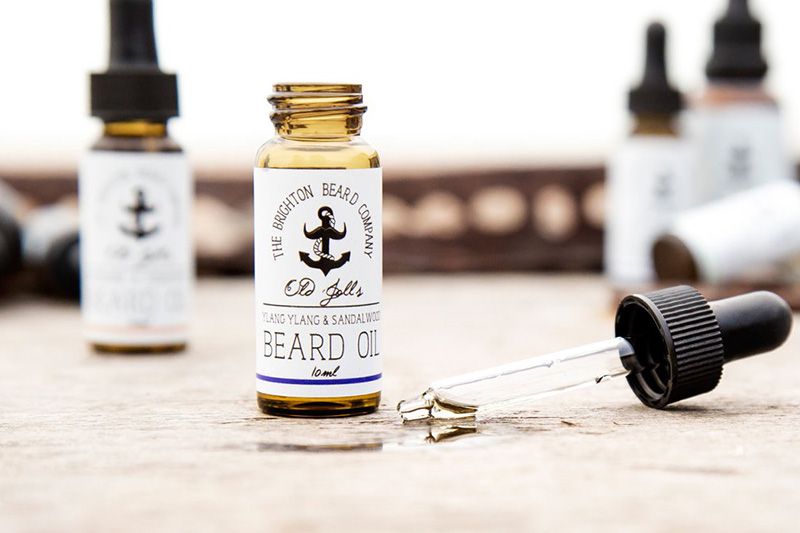 Disclosure and quick heads up – Some of the links below are affiliate links, meaning, at no additional cost to you, I will earn a small commission if you click through and make a purchase.
There are so many beard oils on the market. Being British, I really love the idea of using beard oils that have been made in the UK. I'm a proud British lad, and not to mention there are some really good British beard grooming companies out there that have some really good quality gear.
So which ones are best to get?
Well, that's not an easy answer. The reason being is that there are so many different types of oils out there, and so many different combinations of carrier and essential oils available. Have a look at this beard oil guide to see exactly what goes into beard oils and all the different options of ingredients available.
I've tried a lot of beard oil, and I've come up with my top 8 beard oils that are available in the UK. Some are big popular brands available in the UK, with some being a selection of fantastic British based brands using fantastic natural ingredients.
So...
These are the top 8 beard oils available in the UK. At the moment, I'm currently a big fan of MoBros. I personally use the Midnight Mists Mo Bro's Special Edition Beard Oil which is fantastic and I love the smell.
Top tips of things to consider when buying a beard oil.
Price - Seems obvious, but the price is very important. Sometimes you might be paying almost double for a brand name. There are so many great independent sellers on sites like Etsy that sell oils much cheaper. It depends on what you want. If you're a bit of show off, you might want to pull that premium beard oil brand out at the gym.
Ingredients - Probably the most important thing to consider when buying beard oil. Always check the ingredients. If you're like me and tend to lean more towards more natural products, then you will want to know everything that is going into a beard oil. What essential oils are used, if there are any synthetic oils used to create that unique smell.
Application - this might seem strange to you, but the design of the bottle and how you can apply the beard oil is very important. Some brands come with a dropper, some have a squeezy bottle and some have nothing. I personally like using the dropper lid. It's quick and easy to get the right about of beard oil in your hands.
I've done a lot of research and tried a lot of beard oils. I've come up with my top 8 beard oil recommendations.
Let's get to it.
1.) Mo Bro's Special Edition Beard Oil (Midnight Mist)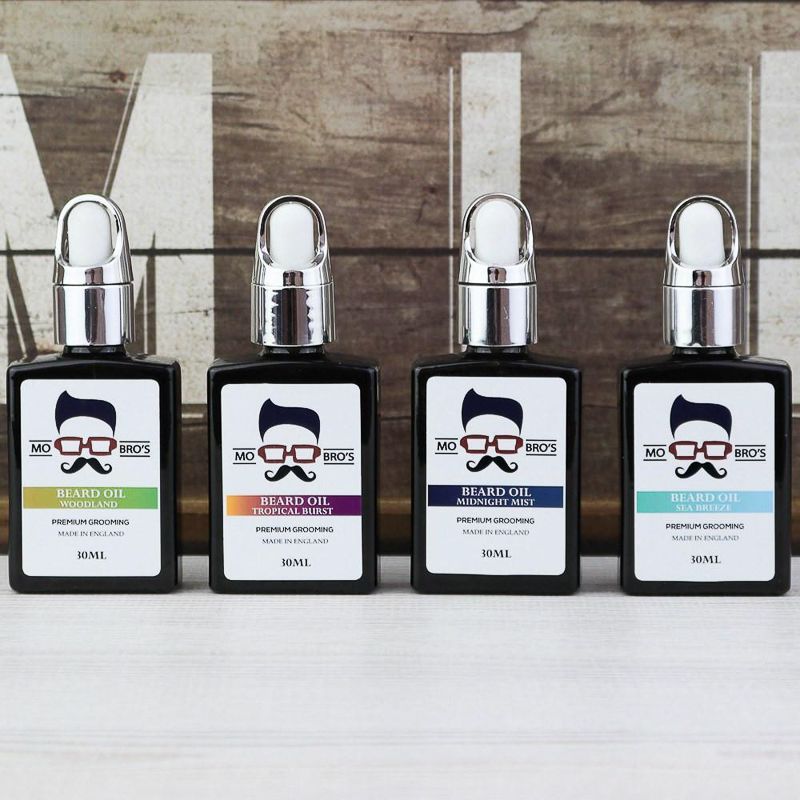 Mo Bro's are famous for their showing on the Dragons Den UK, They're more of a mainstream brand now, but they still have that authentic feel. I love their products mainly because they're based in Leicester which is around the corner from where I use to live. They use to have a small pop-up shop inside the Highcross Shopping Centre - Not sure if they're still there.
They have a great selection of smells, with the Midnight Mist being my favourite. Their products are reasonably priced and the quality of the product is great, with a useful dropper lid for easy application.
This beard oil has a combination of Sweet Almond Oil, Grapeseed Oil, Organic Argan Oil, Jojoba Oil.
Check out the prices and Buy this on the Mo Bro's Website.
2.) Old Joll Beard Oil (Black Pepper and Grapefruit)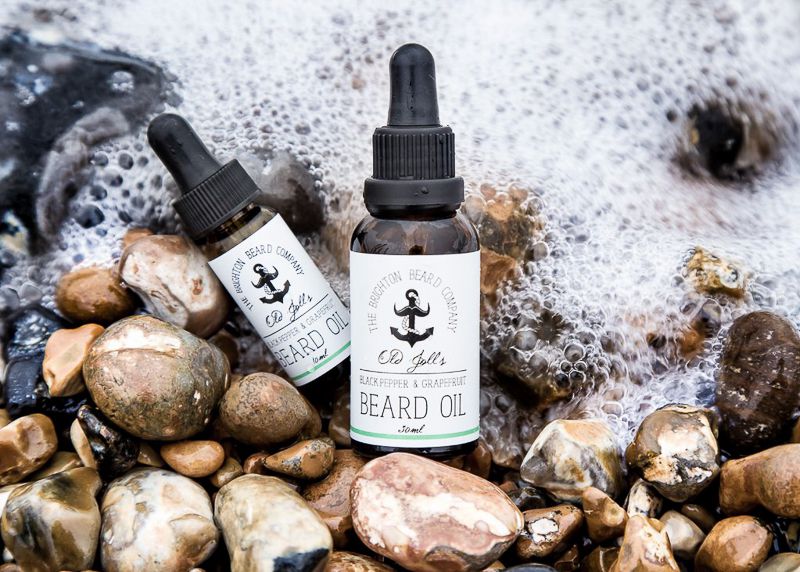 You can't get much more British than this. The Old Joll Beard Oil was created by Lloyd and Jessica in 2013 and based in the popular Britsh seaside town of Brighton. Their brand and products are amazing. The packaging is brilliant and it feels very authentic.
The Black Pepper and Grapefruit smell is great and my wife loves it. Their products are at the lower end of the most of popular beard oils on the market, but that doesn't mean it isn't as good quality as the rest of them. This beard oil is fantastic and also comes with a useful dropper lid for easy application.
This beard oil has a combination of Jojoba Oil, Sweet Almond Oil, Argan Oil, Tea Tree Oil, plus essential oils: Black Pepper & Grapefruit.
Check out the prices and Buy this on The Brighton Beard Company Website.
3.) Natural Beards Premium Beard Oil (Light Woody Eucalyptus)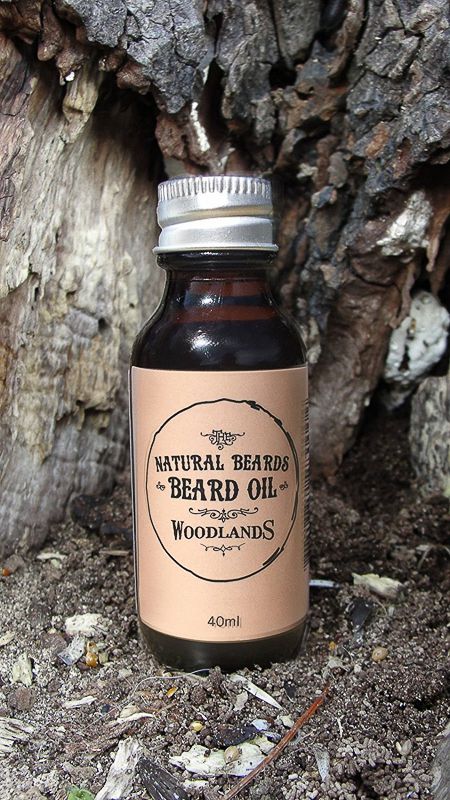 Another great Britsh brand. Natural Beards was founded by Award-winning Barber Mark Rayment. His main objective was to have all of the ingredients sourced and made in the UK - Good quality organic ingredients made only with the finest quality natural organic oils. I love this beard oil.
This beard oil is made with a blend of Apricot Oil, Crambe Seed Oil, Eucalyptus Oil and Aloe Vera. This combination leaves you beard and skin soft and healthy. This beard oil is the business and I would highly recommend it to anyone looking for a British made product, with 100% UK sourced ingredients.
Reasonably priced in the mid-range market. It doesn't have a dropper lid, but still very easy to use with a dropper cap at the top of the bottle.
Check out the prices and Buy this on the Amazon Website.
4.) Percy Nobleman Beard Oil (Musky Vanilla)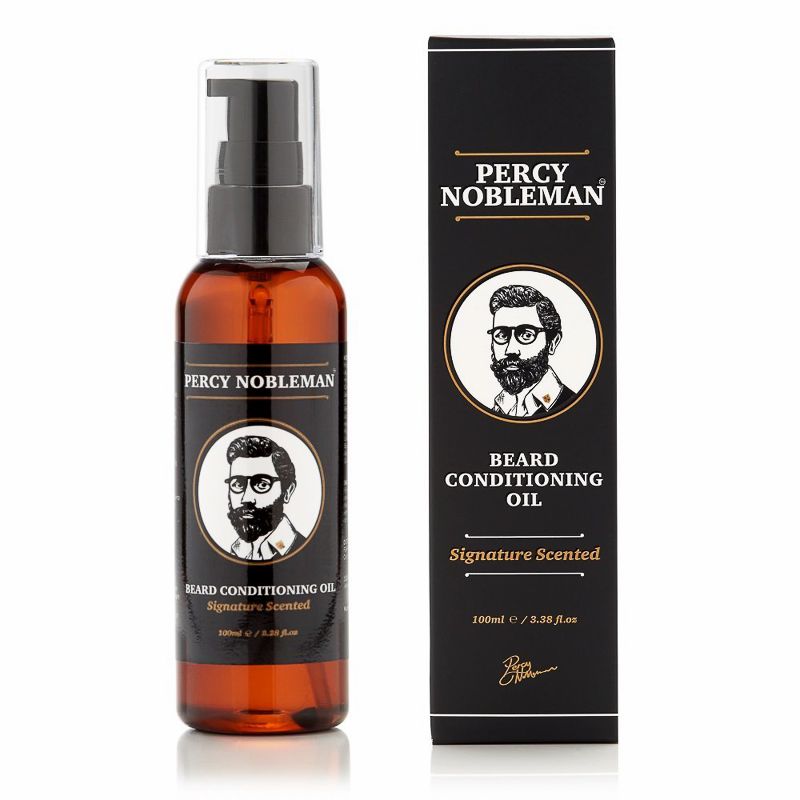 The premium choice here. Percy Nobleman is probably the most well-known premium grooming brand in the UK. Percy Nobleman is a British brand and they're grooming products have graced the homes of thousands of lads across the globe and not just the UK.
When you want something that has style, is a well-known brand and British, Percy Nobleman is the first name on your lips. But, it's a little more pricey.
Their beard oil is of a very high quality, and it's a bit more expensive because of the brand. But the Musky vanilla smell is nothing short of genius and probably the best smelling beard oil on the market in my opinion.
Check out the prices and Buy this on the Amazon Website.
5.) Grizzly Adam Beard Oil (Cedarwood and Lime)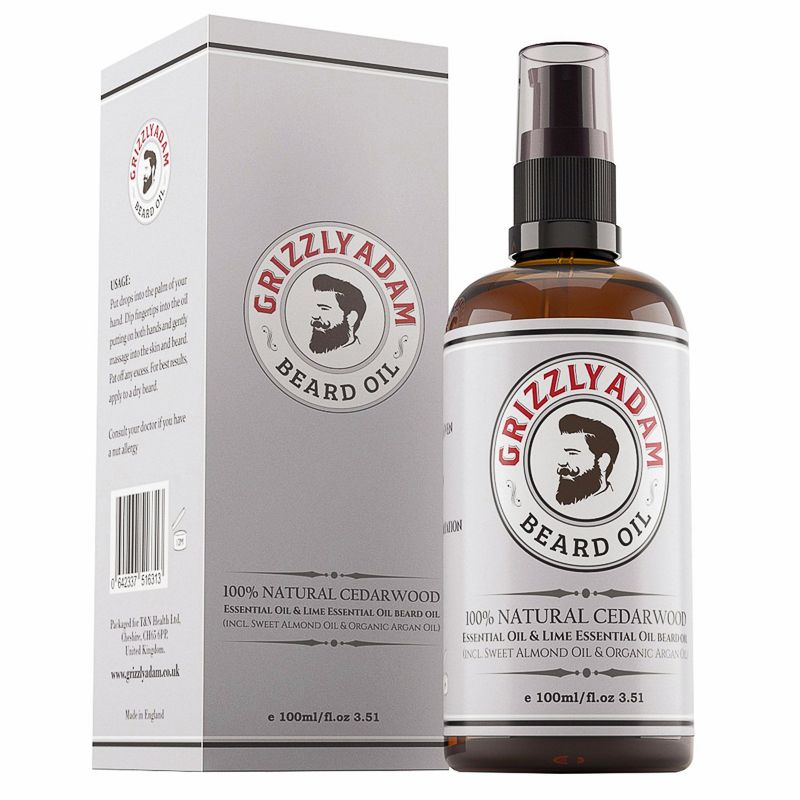 UK Based company Grizzly Adam have their premium beard oil, not as well-known as the previous choice by Percy Nobleman, but a growing brand that also prides itself on the quality of their products and natural ingredients they use.
A good price considering you're getting a 100ml bottle here, and the Cedarwood and Lime smell is pretty nice. Delicate....and masculine! This is a smell that can be used all year round.
It does have a very nice push-pump release top, which I find works really well and the beard oil has a combination of Almond Oil, Argan Oil, Cedarwood Oil and Citrus Aurantifolia (Lime) Oil.
Check out the prices and Buy this on the Amazon Website.
6.) Bedfordshire Beard Co Beard Oil (Vanilla)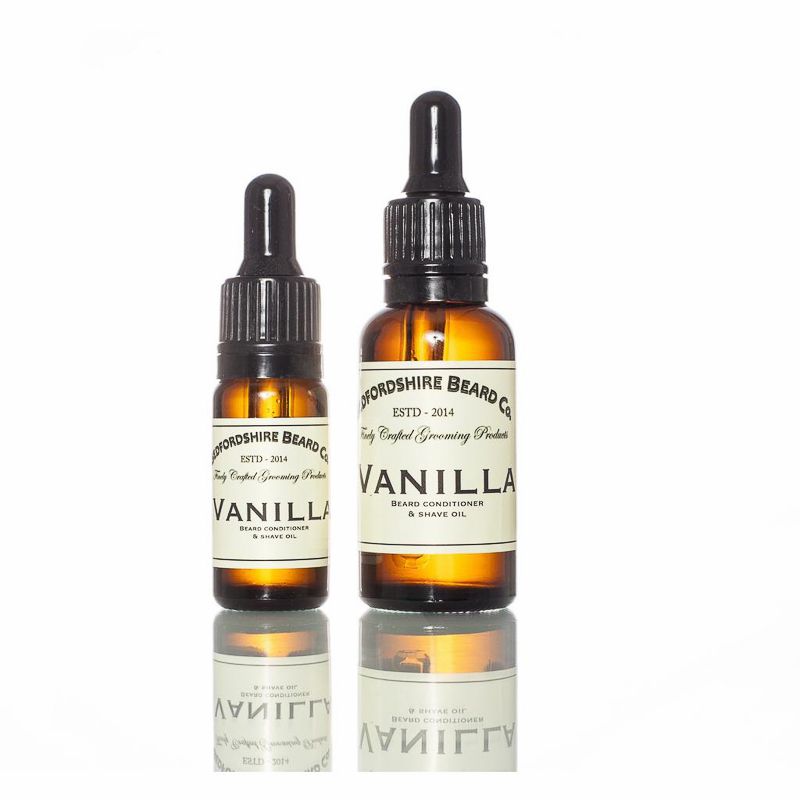 Another fantastic British independent business that makes awesome, high-quality grooming products. The Bedfordshire Beard Company was founded by Tom and fiancé Caitlin and they're a small business based in Bedfordshire, UK, and they pride themselves on their unique hand-made process for turning out high-quality grooming products.
They have a number of smells to choose from, but being a big fan of Vanilla, I found that their vanilla based beard oil is the best I've used.
This beard oil has a combination of Almond oil, Grapeseed oil, Hemp oil, Apricot Kernel oil and Jojoba oil.
Check out the prices and Buy this on the Amazon Website.
7.) Gentlemans Face Care Club Beard Oil (Vanilla and Sandalwood)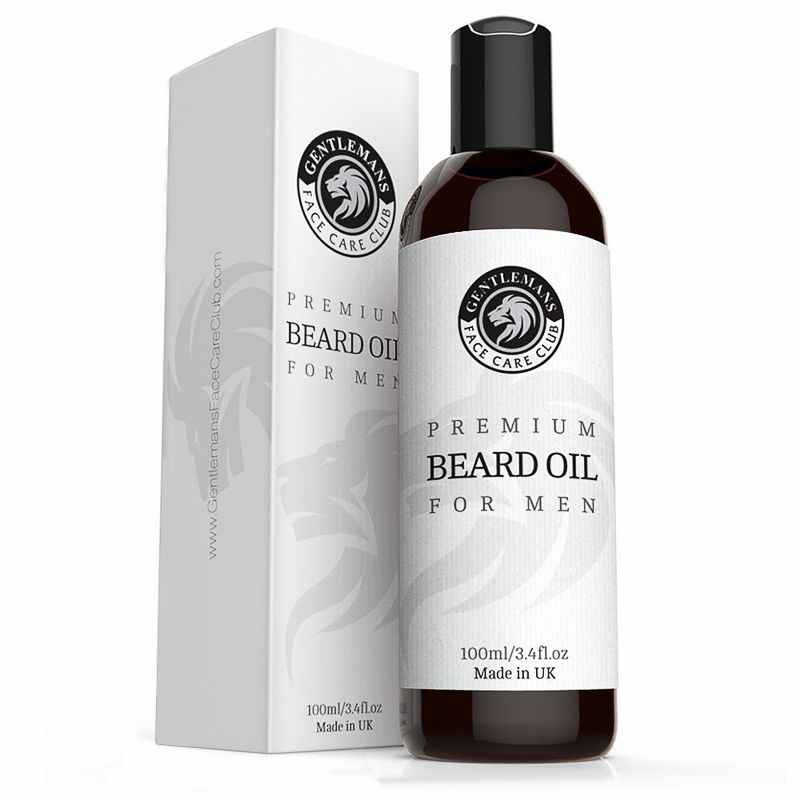 The Gentlemans Face Club is a Britsh brand based in West Yorkshire, UK. They use only the finest 100% pure natural ingredients and is all created and packaged in the UK. The Vanilla and Sandalwood smell is very subtle here. So if you're after a beard oil that is made in the UK from natural ingredients, that's not greasy and a very subtle smell, this is perfect for you.
This beard has a combination of Grapeseed Oil, Tea Seed Oil, Rosehip Oil, Jojoba Oil and Apricot Oil. A great choice of intranets for a really good option for your beard. Also, the price is very good at the moment on Amazon.
Check out the prices and Buy this on the Amazon Website.
8.) British Beard Kings Beard Oil (Morning Mint)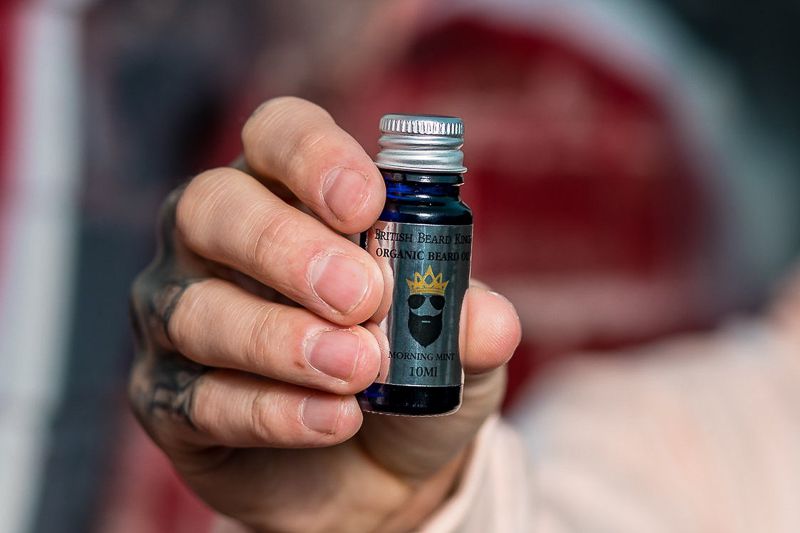 Now we're talking about another very very small British brand called British Beard Kings. Founded by Zack Amin, and it's hard to tell if he isn't a one-man band, but if he is, then he's doing a fantastic job. Once again, a brand that prides themselves on sourcing natural ingredients in the UK, they have a unique selling point.
They're cheap!
Yes, they're the cheapest beard oil I've used and the quality is great. The packaging and brand aren't as strong, but it's good value for money. The morning Mint smell is nice, and it's quite refreshing.
This beard oil has a combination of Grapeseed oil, Sweet almond oil, Golden jojoba oil, Avocado oil, Macadamia nut oil, Vitamin E, Black seed oil, Peppermint and eucalyptus essential oils
Check out the prices and Buy this on the Amazon Website.
Let's wrap it up!
I hope this has given you some good options for Beard Oils that are available in the UK. Let me know what you think. Maybe I've missed a brand. If I have, drop me a message and I'll happily review that product and update this article.
Finally, I would just like to mention that I've not been sponsored in any way by any of these products for this article. There may be some affiliate links in the above recommendations, which I disclosed at the beginning of the article.